Montgomery Ward & Company
Chicago
Catalogue of Books, 1903-1904
In this catalog (held by Rare Book School, The University of Virginia), Montgomery Ward & Co. offered Lucile in seven editions brought out by other publishers -- and one edition of Meredith's Poetical Works. Several series -- perhaps all of them? -- could be had complete with free book case for the purchase of 25 titles.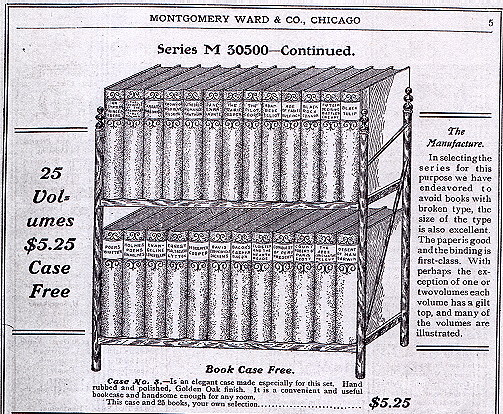 These series offered the choice of 25 volumes from a list of about 300 titles. The publisher(s) of these series have not yet been identified, and it may be that the spines are simply generic placeholders for any of the series separately described.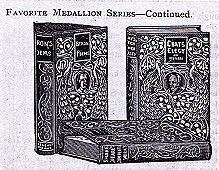 Favorite Medallion Series of Prose and Poetry. Illustrated. Series M 2867. Printed from new, large open-face type on an extra quality of wove paper; embellished with numerous illustrations, especially made for this series. Size 5 ¼ x 7 ½. White cloth, superb cover designs in gold, with portrait of the author in solid gold leaf. Illuminated title page, full gold edges. Silk ribbon book marks. Each in a box. Publisher's price, per volume $1.25. (Postage, each, 12c.) Our price, per volume, $0.60. [Published by The Henneberry Company].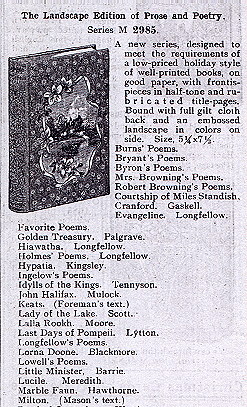 The "Landscape Edition" was published by T.Y. Crowell & Co., and offered in 1901-1902. Probably part of the edition was remaindered to Montgomery Ward.
This is the New Century Edition published by The Henneberry Company.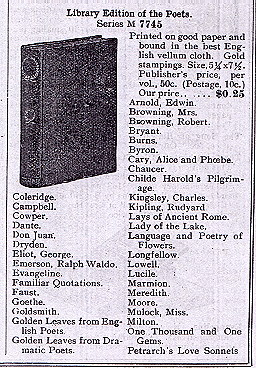 The Library Edition was published by Hurst -- the imprint is just visible at the foot of the spine. Hurst called it their "Plain Edition" and offered it from 1895 to 1901, generally at 50 cents. Both Lucile and the Poetical Works were offered in this series.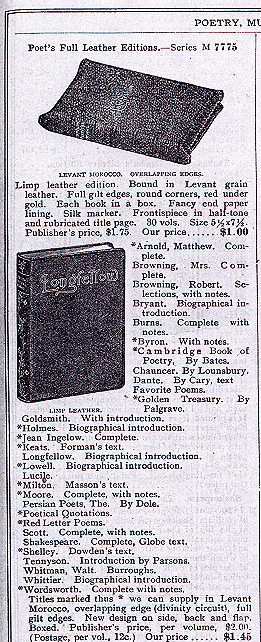 This "Limp Leather Edition" was offered by T.Y. Crowell between 1901 and 1914.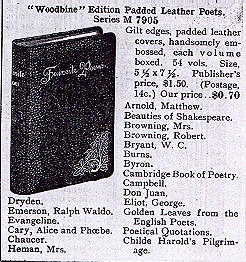 This version of the "Woodbine Edition" was offered by T.Y. Crowell between 1902 and 1905.
Last revised: 12 October 2010