PUBLISHER : William L. Allison, New York, 1869-1892
ABOUT: Address in 1880s was 93 Chambers Street. Published Arundale Edition. Plates sold to Lovell's United States Book Company in 1892. Allison died 1893. (DLB 49). Published cheap clothbound books in latter 1880s; cheap twelvemos of standard books priced at $1.00 but actually sold in dry goods stores for only 25 cents... Lovell purchased plates in 1890... (A. Dean Larsen in Stern). ... was an important New York publisher of cheap cloth-bound books during the 1880s, particularly in the latter part. Allison published the Arundale Edition of cheap twelvemos, a cheap edition of Chamber's Encyclopedia, the works of Shakespeare, and many other books in low-priced editions. Many of the Allison publications came under the control of the United States Book Company when it was organized in 1890. (Shove).

[Note that these accounts are shown to be incomplete by information in the PTLA catalogs quoted below]; presumably Allison retrieved his plates from Lovell (as did other publishers) and continued to publish into the late 1890s. In her The Publishing History of Uncle Tom's Cabin, 1857-2002 (2008), Claire Parfait notes that Donohue Bros. (Chicago) announced in the 1899 [U.S. Catalog:] Books in Print that it had succeeded W. L. Allison (page 163).
LUCILE's ISSUED BY William L Allison :

1885 PTLA: Meredith's Works included in the "Red Line Editions of the Poets. 12mo size, full gilt side and back, gilt edges. Price per volume $1.25. The same editions without the Red Lines, plain edges, $1.00. These are, without doubt, the finest editions of the Poets ever issued in this country at a low price" and in "Allison's American Chandros Classics, a series of the best books in Poetry, History, Biography, Fiction, etc., designed to meet the wants of those who desire the works of the best authors in an inexpensive but neat and durable form. Printed from clear type, on good paper, and handsomely bound. Price in cloth, black and gold, per vol. $.75."
1886 PTLA: repeats 1885 with Lucile added to the Red Line Editions.
1894 PTLA: Allison's series of Popular Poets, cloth, full gold, gold edges, price $1.40 includes "Lucille". Lucile also in Allison's "Opal" Line: 16mos. "printed on extra paper and bound in an unique and entirely new style of binding. Price $.50."
1895 PTLA: Lucile in "The Albion Poets, same style as Albion Library, price 75 cents".
Also in "Allison's New Standard Library [#72]. Best Value for the Money ever Published. Bound in Extra English Cloth--Fine Paper--Gold Title--Ribbon Book Mark. Price, 75 cents." (Cut shows a simulated half-leather binding with "New Standard" in oval at bottom of spine).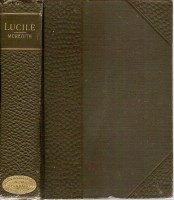 Also "The Chiswick Library of Standard Literature [#40]. Half Bound in English Cloth--Marbled Paper Sides, Gold Top. A collection of the World's Best Books. Each volume boxed separately. Price $1.00." Cut shows a simulated half-leather binding with "Chiswick" in oval at bottom of spine.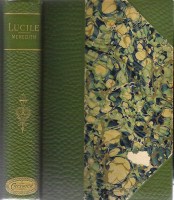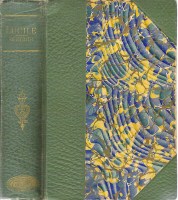 "Allison's Series of Popular Poets. Cloth, Full Gold, Gold Edges. Price $1.00." Cut shows Whittier in blind and gold stamped binding. Also seen in olive/yellow cloth.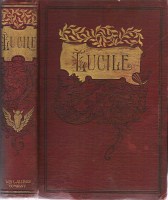 1896 PTLA: Lucile in the Albion Poets; New Standard Library; Chiswick Library; Popular Poets as 1895.
1897 PTLA: Lucile is #6 in the Olive Series of 16mos., Full morocco, flex., gold top and side, Price $1.50.

Popular Poets (with cut of Reade binding).

Unknown edition reported as NL 0594629 Boston Public, 189-, in original binding.
Last revised: 10 July 2014