PUBLISHER: E. A. Lawson Company, New York, 1896-1899?
ABOUT: Chicago: … While the stationery trade in the city continues quiet the manufacturing branches show considerable activity. E. A. Lawson severs his relations with the house of Siegel, Cooper & Co. on the 1st proximo to become an active partner in the house of E. A. Weeks & Co., book publishers of this city. Mr. Lawson has been manager of the stationery and book departments of this mammoth establishment since it opened in the spacious quarters of the new Leiter Building. He was formerly buyer for C. M. Barnes. He will take to the road for the firm, while Mr. Weeks will continue at the helm in the office. As it has been known that Lawson intended to leave the big State street store there has been some lively skirmishing by numerous hustlers to secure the position, as it is one to be coveted. The fortunate applicant was T. Percy Siddall, whose selection gives general satisfaction to the trade here as well as to the travelling fraternity. Mr. Siddall is a thorough, all round man. He came to Chicago to enter the house of Jansen, McClurg & Co. about 1875, from Claxton, Remsen & Haffelfinger, Phildadelphia, a house whose head always ushered in business in the morning by calling the working force together and reading a chapter from the Bible. When S. A. Maxell & Co. came to Chicago and opened for business Mr. Siddall entered their employ.
Before Mr. Siddall was selected for the position it was tendered unsolicited to Geo. W. Noble, who for the past five years has been the buyer of books, bibles, games, blocks and booklets for the wholesale department of A. C. McClurg & Co. A very inducing offer was made to Mr. Noble – so tempting that he took it into consideration for a few days and submitted the matter to his present employers. They were decidedly averse to have him leave them and prevailed on him to remain. Of course anyone with a knowledge of the requirements of the position and acquainted with Mr. Noble's ability would readily recognize that he was a person pre-eminently fit for the position. While only about thirty-five years, and in appearance not more than twenty-five, Mr. Noble has been in the continuous employ of A. C. McClurg & Co. and their predecessors since December 5, 1871, entering the house of S. C. Griggs & Co. when in business at 607 Wabash avenue, near Twelfth street, as a memorandum boy. Ten years ago he was intrusted with the buying of city lines. Although a close and shrewd buyer, I doubt if there is a more popular one with the traveling fraternity in the entire country. (The American Stationer (New York), XXXV:4 (January 25, 1894), page 156.)
E. A. Lawson has purchased a half interest in the firm of E. A. Weeks & Co., publishers, Chicago, Ill. (The American Stationer, (New York), XXXV:5 (February 1, 1894) page 218). See also E. A. Weeks.
The E. A. Lawson Co. inc. of New Jersey, is said to be a new firm that will make and deal in books and music. (The Bookseller and Newsman, vol xiii:11 (November 1896), page 62).
E. A. Lawson, formerly a partner in the firm of E. A. Weeks & Co., Chicago, is now Assistant General Manager of Seigel, Cooper & Co.'s business. His salary is said to be $10,000 per annum. (The Bookseller and Newsman, vol XIII: 12 (December 1896), page 58). See also Siegel Cooper Co.
Edward A. Lawson, several years superintendent of Siegel, Cooper & Co.'s New York store, died a few weeks ago at Phoenix, Arizona, where he had gone in hopes of gathering fresh strength to fight the disease which nevertheless carried him off. He was buried on the 15th inst. At Ravenswood, Ill. Mr. Lawson was born in 1863, and when a boy was employed by C. M. Barnes, the Chicago bookseller. Later he took charge of the book and stationery department of Siegel, Cooper & Co., which position he held for a number of years. When his firm opened their New York branch they selected Mr. Lawson as their superintendent. After two years Mr. Lawson obliged to resign, owing to failing health. (The Publishers' Weekly vol. 57 No. 1465 (Feb. 14, 1900), pages 394-5).
The Lawson Co. submitted no catalogs to PTLA; it is not mentioned in DLB.
LUCILE's ISSUED BY E. A. Lawson Company: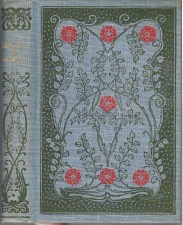 Last revised: 26 March 2013