PUBLISHER: Hooper, Clarke & Co., Chicago, 1870?- 1890?
ABOUT: George Clarke, the younger brother of James Clarke (the Clarke of Belford, Clarke & Co.), may have been a partner of Horace Everett Hooper (1859-1922) (for further information on whom see Wikipedia article, which suggests Hooper first partnered with James Clark in 1893). While Tebbel (II, p445-447) has several pages on the publishing adventures of these interconnected individuals, including publication of the U.S. 11th edition of the Encyclopedia Britannica, it is not entirely clear when Hooper, Clarke & Co. were active. It does seem to be the case the company specialized in reprint editions of multi-volume sets, though a date as early as 1870 for the company seems impropable as Hooper would have been just eleven years old -- though he did, at age 16 (1875), found the Western Book and Stationary Company in Denver, Colorado.
A June 2021 search found on offer a Salesman's Sample Dummy described (edited) as: "New York/Chicago: Hooper, Clarke and Co., 1870. HOOPER, CLARKE and Co.- Salesman's Sample Dummy- Hooper, Clarke and Co.-New York/Chicago c1870- 1st Edition- Hardcover;-12mo-VG++/ no dj as issued- 1/2 black leather and green cloth- rubbed at spine and extremities but tight and clean- top page edges are gilt-
"Contents: Frontis of Dickens + title-Complete Works of Charles Dickens (Little Dorrit)-6pp about the books and price- $1.50 a volume in genuine 1/2 morocco!!!!!!, the book selections available: The Waverly Novels, Knight's Half Hours, Charles Dickens Works, Taine's English Literature, George Eliot's Works, Washington Irving's Works, Thackeray's Works, Bulwer Lytton's Works, Alexandre Dumas Works, Gibbon's Roman Empire, Victor Hugo's Works, Guizot's France, Macaulay's England, Green's English People, carlyle's Works, McCarthy's History of Our Times, Plutarch's Lives, Rollins Ancient History, Hume's England, Rawlinson's Monarchies, Rawlinson's Egypt, Rombaud's Russia, Josephus History of the Jews.
Binding types, Frontis + title page Decline and fall of the Roman Empire by Gibbons, 19 plates-gravures one side of page + 12pp of excerpts from some of the volumes- inner and back inside cover-4 samples of leather bindings available- Hooper and Clarke desolved their partnership in 1890-."
Clarke, Given & Hooper is presumably a related (and successor?) firm.
LUCILE's ISSUED BY Hooper, Clarke & Co. : Only two copies have been reported.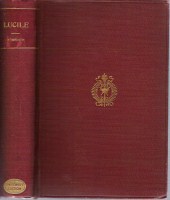 Last revised: 13 June 2021