PUBLISHER: Hooper, Clarke & Co., Chicago, 1887?- 1910?
ABOUT: George Clarke, the younger brother of James Clarke (the Clarke of Belford, Clarke & Co.), was a partner of Horace Everett Hooper. While Tebbel (II, p445-447) has several pages on the publishing adventures of these interconnected individuals, including publication of the U.S. 11th edition of the Encyclopedia Britannica, it is not clear just when Hooper, Clarke & Co. were active. Hits in Google Books suggest it may have been as early as 1887 and as late as 1910; it seems probable the firm's run was considerably shorter, however. George Clarke was probably the durable partner as James Clarke quickly fell out with Hooper (as did a number of Hooper's other partners in his various enterprises). Clarke, Given & Hooper is presumably a related firm.
LUCILE's ISSUED BY Hooper, Clarke & Co. : Only two copies have been reported.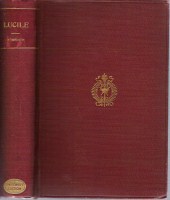 Last revised: 29 September 2010