PUBLISHER: Bay View Publishing Co., New York, 1890s?
ABOUT: 1899 PTLA: 156 Fifth Avenue, Presbyterian Building, "Popular Classic Series in Cloth and Fine Bindings" include the "Excelsior Edition" (Lucile is #15) and are described: "These volumes are selected from the most noted authors, and are fully illustrated, well printed from NEW plates on GOOD paper, and bound in fine bindings such as have NEVER BEFORE been put on books sold at these prices. Price, per volume, 50 cents."
LUCILE's ISSUED BY Bay View Publishing Co. :
1902 United States Catalog reports Lucile. Bay View. 50c; cf. 75c.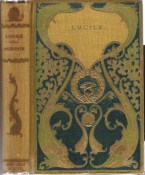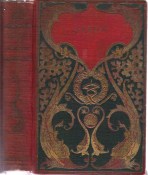 See also H.M. Caldwell imprint (BAP Ca10.5) which has "Bay View Pub. Co." stamped at foot of spine.
Last revised: 20 September 2010