PUBLISHER: Universal Publishing Company, New York, circa late 1880-1890s?
ABOUT: Although no firm information has as yet been found on this publisher -- it did not, among other things, submit catalogs to PTLA -- it seems likely it was another of the many names under which John Wurtele Lovell and Frank F. Lovell operated: Frank published very similar copies of the known titles with this imprint at or near the same time (the late 1890s) as the Universal Publishing Company copies seem to have been issued. None are dated on their title pages, and none have been precised dated by other means.
To date just six titles have been confirmed with this imprint. All in the same cloth binding stamped "Popular Edition" they are:
George Eliot. The Spanish Gipsy
Thomas Hughes. Tom Brown's School Days and Tom Brown at Oxford.
Owen Meredith. Lucile.
Adelaide Anne Proctor. The Poems of Adelaide A. Proctor, with introduction by Charles Dickens.
William Wilkie-Collins. The Legacy of Cain.

LUCILE's ISSUED BY Universal Publishing Company :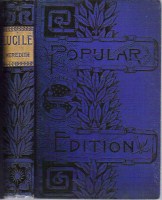 Last revised: 26 November 2021