PUBLISHER: H. Parmelee Library Company, Des Moines, Iowa, 1882-1898; Chicago, 1898-1902
ABOUT: See below.
LUCILE's ISSUED BY H. Parmelee Library Company: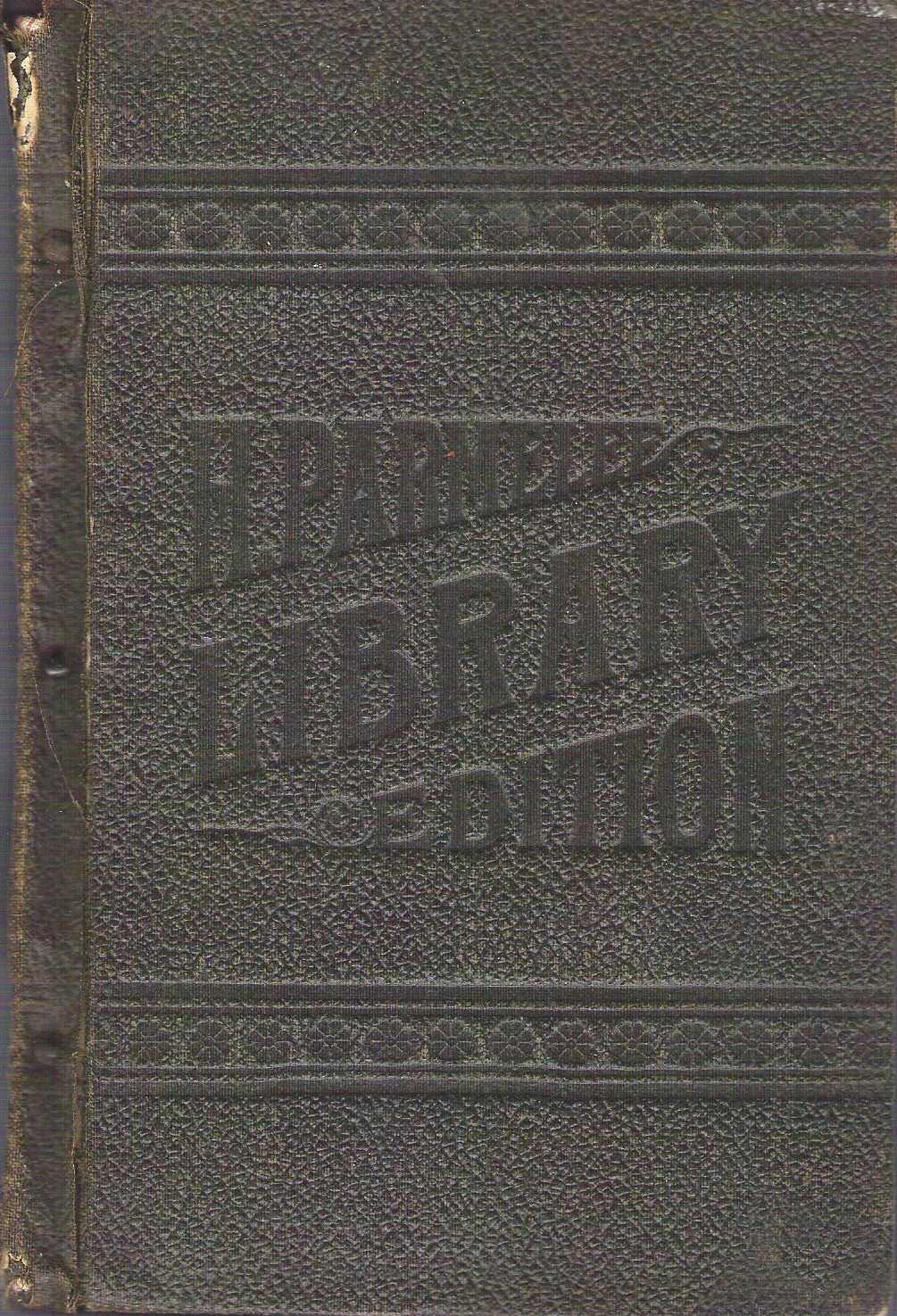 Lovell's Library edition (with 1860 text), circa 1886. 369p, 125x190mm. Parmalee imprint on title page. Ad for Singer sewing machines on verso of title page. Faux leather cover, blindstamped, attached to block with three rivets driven through spine groove. Extremely fragile (thin newsprint quality) paper. Orange endsheets. S&EH.
A few traces of this company turn up on the internet. It does not seem to have itself published books but rather marketed ready-libraries, composed of very cheap reprint editions, in its own very cheap bindings blind-stamped with the company name. The copy of Lucile in the S&EH collection carries a John W. Lovell imprint.
"Under the leadership of Melvil Dewey, the State of New York initiated a state funded traveling library system in 1892. Traveling libraries were small rotating collections that provided a method for extending library service to rural areas. These small libraries usually from 30 to a hundred books were located in a post office, a store, or someone's home with a volunteer acting as the caretaker of the collection. In New York the collections stayed in one location for six months before they were rotated.... There were also some commercial traveling libraries such as those provided by the H. Parmelee Library Company (See below).
"The H. Parmelee Library Co. was founded in Iowa in 1882. It developed a rotating "package" collection which it called the University of the Traveling Library. The company relocated to Chicago in 1898 where it continued to market its rotating package library as a way of providing "A Thoroughly Equipped and Permanent Library In every Town and Hamlet in America"."
----(From the "traveling libraries" pages of the Library History Buff website maintained by Larry T. Nix).
"A private traveling library enterprise has been conducted for several years by the H. Parmelee library company of Des Moines, Ia. 1000 volumes were divided into 20 sections of 50 volumes each, and each section shipped to a different town and exchanged at the end of three months. 250 sections have been sent to destinations as far distant as Washington (state) and Florida. After Jan. 1, 1896, an educational element will be introduced by supplying each 50 volume library with 10 or 20 books on some special course of reading. The books are leather-bound and shipped in iron bound cabinets, making the cost of the whole library of 1000 volumes about $1000. As this amount is divided among the 20 borrowing towns, the cost to each town is $50. On receipt of the new section an elaborate report is made out by the librarian and sent to the Library company in Des Moines, stating fully the condition of the outgoing and incoming sections. A small additional fee is paid each quarter to cover the cost of rebinding and replacing worn books."
----(University of the State of New York - Extension Bulletin No. 16 October 1896 PUBLIC LIBRARIES NO. 4 REPORT OK PUBLIC LIBRARIES DIVISION 1895 INCLUDING STATISTICS OF NEW YORK LIBRARIES).
"PLYMOUTH LIBRARIES 1841-43 Wabash ave -1882 Parmelee library co - 1902 Plymouth libraries. This is a commercial enterprise which originated with H. Parmelee of Des Moines Ia in 1882 and was later transferred to Chicago as the H. Parmelee library Co. From 1886 to 1895 the Book Club Library supplied books to clubs which kept them as a nucleus for a permanent library or distributed them among the members In 1895 traveling libraries were introduced under the name University of the Traveling Library. Subscriptions to a certain amount would entitle a town to the use of 2000 volumes for two years sent in installments of 50 volumes. In 1900 book deposits were made in the residence districts and clubs were formed for their use. In the same year house to house delivery of books was established, the rate depending upon the frequency of delivery and the number of books taken at one time. In October 1902 the failure of the house was announced, but it soon resumed business as the Plymouth libraries The firm has issued many announcements reading lists and illustrated catalogs."
----(The University Studies By University of Illinois (Urbana-Champaign campus), volume 2. [1909].)
A useful article on traveling libraries (which contains a quote from an H. Parmelee letter) is Joanne E. Passet, "Reaching the Rural Reader: Traveling Libraries in America, 1892-1920," Libraries and Culture 26:1 (Winter 1991), pages 100-118.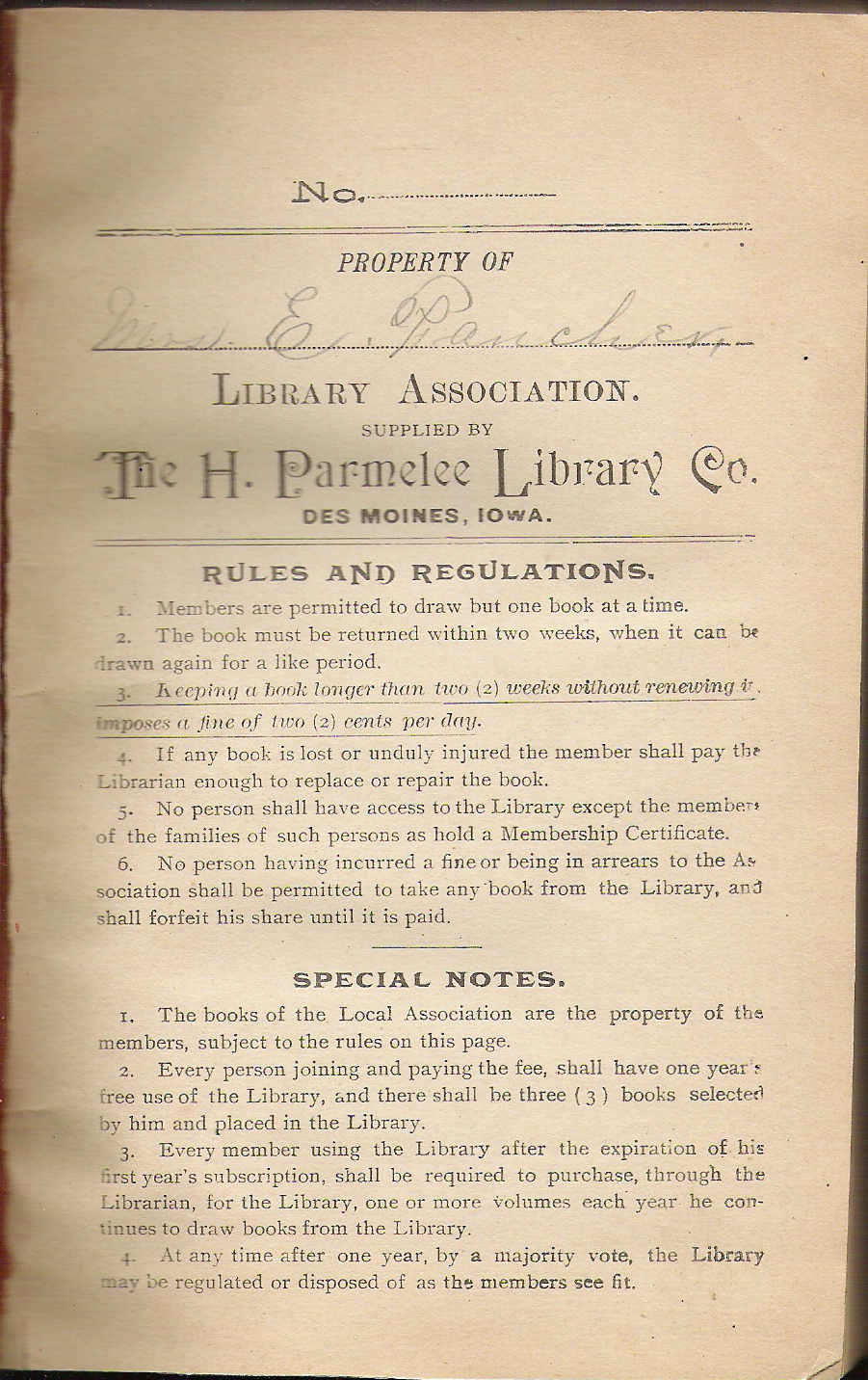 The following few items about the company have been found via Google searches using "Parmalee":
----History of the Library. The first actual library service for the town of Mentone [Indiana] was the H. Parmalee Company of Chicago. By subscribing to a particular amount, a town or neighbor was entitled to the use of 2000 volumes for two years, sent by Parmalee in installments of fifty books. Parmalee also encouraged the establishment of book clubs, and would, for a fee, arrange for home delivery. The Parmalee Library is first mentioned in the Mentone Tri-County Gazette in late 1899…. The town's first actual library was a service established by the H. Parmalee Co. of Chicago around 1899. Subscription holders were entitled to the use of 2,000 volumes.
----Chicago – The H. Parmalee Company has been incorporated by L E Dow, G. B. Smith and J. A. Burch. Capital stock $50,000. Publishers' Weekly (April 30, 1898), page 741.
----CHICAGO ILL The Court of Appeals has decided in the case of the Parmalee Library Co which was adjudicated a bankrupt by the District Court that libraries were not subject to bankrupt proceedings. The Publishers Weekly (September 12, 1903), page 416.
Reports of Cases Determined in the Appellate Courts of Illinois By Illinois Appellate Court: Volume 106.
William Friedman Trustee v Alexander H. Revell & Company
1. CHANCERY PRACTICE. Taxation of Costs a Matter of Discretion with the Court. -- The taxation of costs in a chancery proceeding is usually a matter of discretion with the court.
Bill to Foreclose a Chattel Mortgage. -- Error to the Circuit Court of Cook County; the Hon EDWARD F DUNNE, Judge presiding. Heard in the Branch Appellate Court at the March term, 1902. Affirmed. Opinion filed February 13 1903.
E.W AUSTIN, attorney for plaintiff in error.
PARKER & PAIN, attorneys for defendant in error.
MR. PRESIDING JUSTICE WATERMAN delivered the opinion of the court.
April 7 1900 Robert A Kilbourn borrowed from George Barnett $402.50, and to secure the payment of the same made a chattel mortgage upon certain household goods, furniture and utensils, and also upon five hundred volumes of books, which mortgage was duly recorded
May 29, 1900, Robert A Kilbourn being indebted to Alexander H Revell & Company for over $400 for a large portion of the goods theretofore by him mortgaged, and said indebtedness to defendant in error being due, to obtain an extension of the same made a mortgage to defendant in error of the goods theretofore mortgaged by him to George Barnett, which chattel mortgage to defendant in error was duly acknowledged and recorded May 29th.
May 29 1900 said Kilbourn made another chattel mortgage to said George Barnett to secure over $300.
On the 3d day of July, 1900, defendant in error filed its bill to foreclose its chattel mortgage, and on the same day Robert L Dean was appointed receiver of the mortgaged property and took possession thereof.
The 21st day of September, 1900, a petition in bankruptcy was filed against Robert A Kilbourn and October 29, 1900, he was duly adjudged a bankrupt.
December 13, 1900, William Friedman, the trustee under said bankruptcy proceedings, filed an intervening petition in the foreclosure suit brought by defendant in error The cause was referred to a master to take testimony and report. The master reported that May 29, 1900, the time at which the mortgage held by defendant in error was made, Kilbourn's assets, exclusive of his interest under a contract with the Parmalee Library Company, about equaled the amount of his liabilities; that his credit was good until about the middle of May, 1900, when the president of said library company being anxious to put an end to the said contract which Kilbourn had, and to terminate his connection with the library company, sent written communications to the persons and business houses with whom Kilbourn had been dealing, notifying them that Kilbourn was no longer treasurer of the Parmalee Library Company, and that any future credit extended to him must be upon his individual merit.
Parmalee also called upon a number of business houses, including the complainant, and repeated verbally the substance of his written communications. He also purchased some outstanding claims against Kilbourn and held the same out of Kilbourn's salary. The master found that at the time defendant in error received its note and chattel mortgage from Robert and Elizabeth Kilbourn, defendant in error did not have any reasonable cause to believe that it was intended thereby to give defendant in error a preference and that it was not shown by the evidence that defendant in error, at the time it received its note and chattel mortgage, had any knowledge or notice that Robert Kilbourn and Elizabeth Kilbourn, or either of them, were indebted to any other person, firm or corporation, or had liabilities of any kind other than what they then owed defendant in error.
The master further found that a few days prior to the execution and delivery of the note and chattel mortgage to defendant in error, defendant in error had investigated the financial condition of Robert Kilbourn and as a result rested in the belief that Robert Kilbourn was in good financial condition and perfectly solvent, but that he was somewhat tricky and might, possibly, owing to the strained relations between him and Parmalee and the possible severance of his connection with the library company, leave the city of Chicago and take his property with him.
The finding of the master was approved by the chancellor. Among the evidence submitted to the master was report by the cashier of the Continental National Bank in January, 1900, reported as to Robert A Kilbourn defendant in error as follows: "Resources: we regard him as worth about ten thousand dollars; integrity good. Is he prompt? A. Yes. General reputation? Good."
We find no sufficient reason for reversing the conclusion of the master and the judgment of the court as to the intention to give or receive a preference, and also as to the obtaining of the same by defendant in error. Plaintiff in error urges that costs were taxed against him which should not have been. The taxation of costs in a chancery proceeding is usually a matter of discretion with the court. Finding no error warranting a reversal of the decree of the court below, it is affirmed.
Last revised: 11 June 2021