PUBLISHER: Burrows Brothers, Cleveland, Ohio, 1873-1993.
ABOUT: BURROWS, a leading book, stationery, and office-supply firm in Ohio, was founded by Chas. W. and Harris B. Burrows, who opened the Burrows Bros. book and stationery store at 310 Euclid Avenue, 8 Nov. 1873. Within a year it was almost bankrupt when Chas. Burrows introduced a circulating library--a move which proved to be both popular and profitable by 1875. By 1883 the firm had obtained larger quarters at 324-328 Euclid Ave. and expanded into the publishing and wholesale business. As publishers they were active from 1883 to 1912, and their most successful imprint was The Jesuit Relations and Allied Documents (1896). Burrows Bros. incorporated in 1886 and 2 year later acquired its major competitor, Cobb, Andrews & Co. The company had about 200 employees when it moved to 633-635 Euclid Ave. at E. 6th St. in 1897.
By 1912 the Burrows brothers had sold the retail operation to Jas. Robinson and John J. Wood, and by 1918, the firm was in receivership. When new interests bought the company in 1919, business revived, and General Manager Gordon B. Bingham began establishing branch stores in 1922. Nine had been opened by World War II. After Burrows Bros. was sold to a group headed by Howard Klein in 1944, the name was shortened to Burrows, and the new owners moved its downtown store to 419 Euclid Ave.; added more suburban branches; and enlarged its product line. The Higbee Co. acquired Burrows in 1969 but was forced to sell it 4 years later because of a federal antitrust suit. Between 1975 and 1979, the new owners, headed by John J. Malloy, moved the Burrows flagship store to 601 Euclid Ave. and rapidly expanded the company from 15 stores with $7 million in sales to 45 stores, 36 of them in Cleveland, with $18 million in sales. In 1982 Burrows was purchased by Bro-Dart Industries, Inc. (BDI Investment, Inc.). In 1988 the chain resumed the original Burrows Bros. name and remodeled the stores in the image of its early operation. At that time Burrows had 19 stores in Cuyahoga County, a main office at 100 Hayes Dr., and employed 250 people. By 1993 all Burrows facilities were closed in greater Cleveland. [Excerpted from The Encyclopedia of Cleveland History].
LUCILE's ISSUED BY BURROUGHS BROTHERS : Burrows Brothers Co. submitted catalogs to PTLA in 1887-1890; 1904, 1909, and 1911. These have not yet been examined.

One Lucile with a Burrow Brothers imprint is known: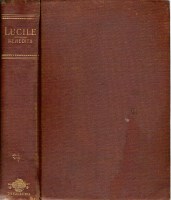 An 1899 Burrows Brothers Company "Catalogue of the Best Books in Every Department of Literature" is available online. It does not list the Euclid Series, but it does indicate that the store offered Lucile in several editions by other publishers:
page 199 [in section: Literature: English Poetry]
Library Edition of the Poets. 12mo, cloth, gilt top. Per vol., $1.00. Half calf. $3.00. [Lucile, Meredith's Works
Same. Library ed. Illustrated; 8vo. $2.50.
Poetical Works. Household ed. Portrait, illustrated; 12mo. $1.50. Half calf. $3.25. Levant. $4.50.
pages 322-325, Standard Series
[Altemus'] Handy Volume Classics. 77 vols., 18mo, cloth, gilt top, with medallions on side, each book in a box. Per vol., #.0.50. Full limp leather, with silk bookmark. Per vol., $0.75.
Same. Popular ed. 77 vols, 18mo, white back, fancy paper sides, printed wrappers. Per vol., $0.60. [Lucile].
[Altemus'] New Illustrated Vade Mecum Series. Containing the most popular works of standard authors; Hand Volume, Large Type editions, with appropriate text and full-page illustrations; superior paper and printing; illuminated title-pages, etched portraits, and original aquarelle frontispieces in eight colors; unique binding from design by famous European artist. Full cloth, ivory finish, embossed gold and inlaid colors, with side titles, boxed. Per vol., $0.40. [large selection from 244 titles including Lucile].
[Altemus'] Illustrated Petit-Trianon Series of standard works selected from the famous authors of the world; Handy Volume, Large Type editions, with appropriate text and full-page engravings; superior paper and printing; illuminated title-pages, original aquarelle frontispieces in eight colors and etched portraits. Half white vellum, embossed, exquisite floral sides, boxed. Per vol., $0.50. [same titles as Illustrated Vade Mecum].
pages 329-332
Burt's Home Library. Comprising three hundred and sixty-five titles of standard works, embracing fiction, essays, poetry, history, travel, etc., selected from the world's best literature, written by authors of world-wide reputation. 12mo, printed from large type, on good paper, and bound in handsome uniform cloth binding. Per vol., $1.00. [Lucile]. page 334-335
[Crowell's] Padded Grecian Morocco. 25 vols, 12mo, new and beautiful desingss, gilt edges. Per vol., $2.00. [Lucile & Owen Meredith].
[Crowell's[ The Westminster Series of Poetry and Prose. 59 vols., 12mo, new cover design, beautifully decorated in white and gold, full gilt edges, each book in a box with printed wrappers. Per vol., $1.25. [Lucile & Meredith].
[Crowell's] The Abbotsford Edition. An entirely new line. 50 vols., 12mo, carefully printed on good paper, bound in new designs, plain edges. Per vol., $0.60. [Lucile & Meredith].
For many years Burrows Brothers published a newsletter, The Burrows Brothers Breeze. In its December 24, 1921, issue (page 2004), Publishers' Weekly reprinted an article by George P. Fluck of the Juvenile Book Department:

Time makes changes. The book business has been no exception. Many of the favorite books of early days are known to few present-day readers. The writing of Dickens, Scott, Thackeray, Bulwer, Cooper, Eliot, Hawthorne and a host of other survive and are appreciated. Outside fo the "Sketch Book" and "Alhambra," Irving is little read. J. G. Holland, deservedly popular, is almost forgotten.
Some "big sellers" of long ago were Tourgee's "A Fool's Errand," and "Bricks Without Straw," Beecher's "Norwood," Spraugue's "An Earnest Trifler," and Wallace's "Ben Hur." The last named is still in good favor, the others forgotten.
Popular fiction writers of the eighties were: Wilkie Collins, Charles Reade, Thomas Hardy, William Black, R. D. Blackmore, Marion Harland, Captain Marryat, E. P. Rose, Mrs. Alden (Pansy), Amelia Barr.
Others of less quality were: Mrs. Holmes, Mrs. Southward, Charlotte Braehm, Augusta Evans, Bertha Clay and many others.
Outstanding writers of detective or mystery stories were Allen Pinkerton, Emile Gaboriau and Anna Katherine Green.
Of the writers of humor, Mark Twain, Max Adeler, George W. Peck, Artemus Ward, Bill Nye, Josh Billings and Marietta Holdy stood out most prominently.
The writers who most thrilled our daddies when boys were Optic, Alger, Castleman, Trowbridge, Kellogg, Ellis, Hentry, Du Chailler and Stephens. "The Boy Travelers," "Zig Zag Journeys" and "Knock-About-Club" books were popular but are now out of demand.
The girls and boys of the eighties, as those of today, enjoyed "Little Women," "Helen's Babies," "Alice in Wonderland," "Robinson Crusoe," "Tom Brown's School Days," "Tom Sawyer" and "Hans Brinker."
Along religious lines, the sermons of Phillips Brooks, Talmadege, Spurgeon, Farrar and Moodie were in strong demand, also Taylor's "Holy Living" and "Holy Dying." Young's "Night Thoughts," Clark's "Scripture Promises and Phantoms of the Past."
The most popular book for gift purposes was "Lucille," followed by "Lady of the Lake," "Lalla Roohk," "Lorna Doone," "Geraldine" and "Cranford."
During the late eighties, the large, flat, illustrated gift book had its sway. Some subjects were: "The Raven," "The Ancient Mariner," and "The Inferno."
The standard poets sold more readily than now. Authors were more often sold in complete sets. Worcester's Dictionary was the preferred authority in 1880.
Some paper covered series, now no long available, were The Seaside Library, Lakeside Library, Harper's Handy Volume Series, and Beadle's Dime Libary.
Godey's Lady's Book and Peterson's The Lady's Friend were the leading fashion magazines. Their fine colored plates illustrating the prevailing styles are now most interesting curios.
During the eighties, if five thousand copies were sold during the life of a book, it was considered a success and fifty thousand copies was most exceptional.
At the present time, the sale of two hundred and fifty thousand copies of a good, live novel is not considered unusual.
The 1899 Catalogue also offers several illustrations of the facade and interior of the Euclid Avenue store. These include the facade; main aisle; an interior view; the book department; the stationery department; and the vacuum tube system that moved messages from one department to another, cash and checks to a cashier, etc.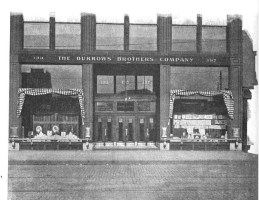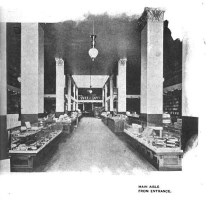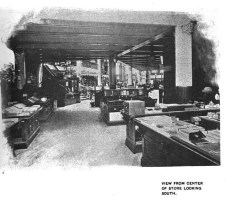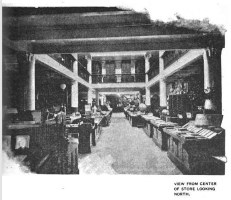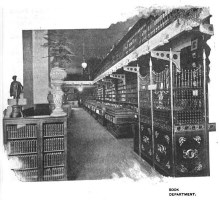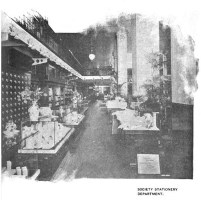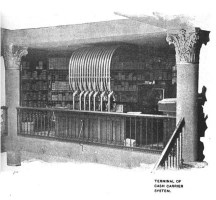 Last revised: 10 July 2014