PUBLISHER : Adams, Victor & Co, New York, 1877
ABOUT :
This imprint was one of several used by the complex of companies generally known as "Beadle and Adams" and famous for invention of the Dime Novel. A large site is devoted to the firm and its publications at Northern Illinois University, http://www.niulib.niu.edu/badndp/bibindex.html. In chapter 11 of the firm's history at that web site, its creators write: "Next came the Sunnyside Library with the imprint of Adams, Victor & Co. It was begun in July or August, 1877, and ended in November of the same year. Like all of the Adams, Victor & Co.'s publications, these were of a different class from other Beadle publications. Except the last number, they consisted of reprints of famous long poems. Apparently the public was not ready for cheap high-brow poetry -- those desiring such bought it in padded leather -- and the series ended with No. 6."
LUCILE's ISSUED BY Adams, Victor & Co. :

Lucile. Sunnyside Library, Vol. 1, no. 5. 28.5 cm x 20 cm (in binding); bound volume measures 29.3 x 20.1 cm. 29, [1] p. Final page [1] is advertisements for "The Fireside Library." Masthead: The | Sunnyside | Library| [in decorative border 6.4 x 18 cm.] Copyrighted in 1877, by Adams, Victor & Co. | [double rule] Vol. 1. Single number. Adams, Victor & Co., Publishers, no. 98 William Street, New York. Price, 10 cents. No. 5.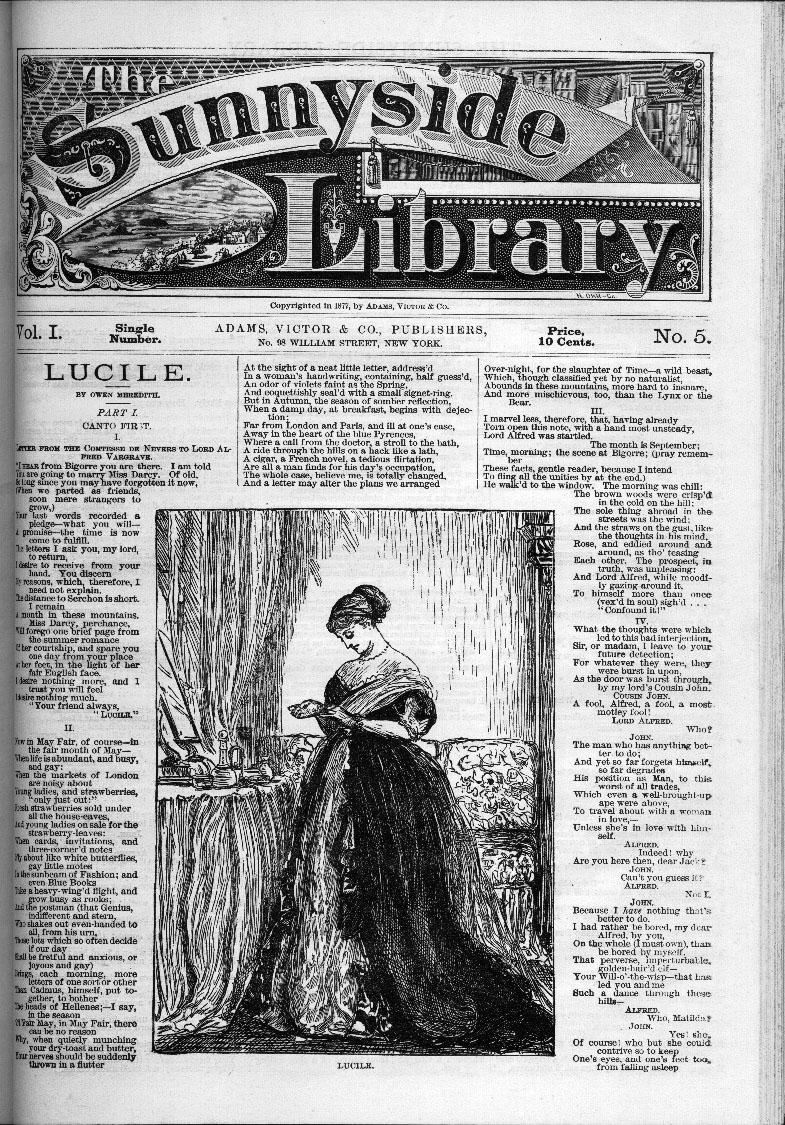 The illustration is a direct recutting of the George DuMaurier wood engraving that first appeared opposite the opening page of Part II, Canto I in the 1868 Chapman & Hall (London) / Ticknor & Fields (Boston) editions.
[My thanks for this scan to Lynne M. Thomas, Rare Books and Special Collections Librarian, Founders Memorial Library 402A, Northern Illinois University DeKalb, IL 60115].
Last revised: 30 August 2010