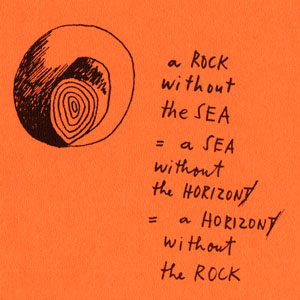 Above: One image from Rot's A Look into the Blue Tide Part 2.
A Look into the Blue Tide Part 2 also provides a brief biography of Rot: " born in Hannover, Germany in 1930, but was brought up in Switzerland where, at the age of 17, he was apprenticed to an advertising designer. He left this field to study art in 1952...in 1957 he married and moved to Reykjavik, Iceland, where, working in complete isolation, he produced the series of brilliant and highly original books which were central to the subsequent developments of Op art and concrete poetry."

Above: The cover of A Look into the Blue Tide Part 2, by Dieter Rot, 1967. A Great Bear Pamphlet.
The colophon provides an explanation of the pamphlet: It is a "very brief sampling from the continuation of die blaue flut ("the blue tide")...The original is handwritten, layer over layer, in blue, red, green, black, grey, and yellow, and is a full length work."