ALICE HUTCHINS: ARENAS FOR
HAPPENINGS
At a certain moment the canvas began to appear to one American painter after another as an arena in which to act--rather than as a space in which to reproduce, re-design, analyze or "express" an object, actual or imagined. What was to go on the canvas was not a picture but an event.
--Harold Rosenberg, "The American Action Painters," Art News (December 1952): 25.
Alice Hutchins was born in 1916, in Van Nuys, California. After studying history and economics at the University of California, Berkeley, she spent the late nineteen-thirties through the forties living in California, Virginia, Michigan, Washington D.C. and Cairo, Egypt, with her husband and two children. Hutchins and her family settled in France in 1950, two years prior to the appearance in print of Harold Rosenberg's unabashedly anti-formalist celebration of the liberation of American art from the hegemony of School of Paris modernism.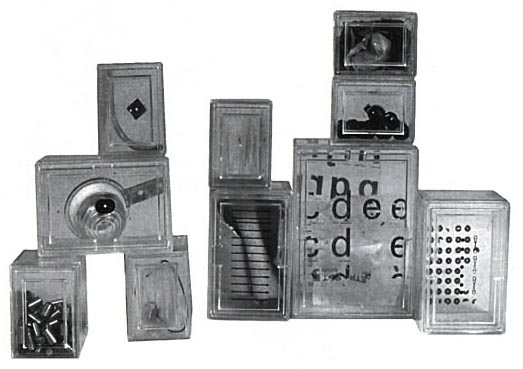 Alice Hutchins, Untitled, c. 1967
In "The American Action Painters" Rosenberg asserts that the innovation of the new painting lay in its rejection of "representation" in favor of enactment, and in its having "broken down every distinction between art and life." Not only did Rosenberg's December 1952 Art News essay polarize the New York School painters and critics we have come to associate with Abstract Expressionism, but a number of its basic assumptions inadvertently entered the everyday conversations of subsequent generations of both New York and Paris-based "happeners" and event artists. A decade after she moved to Paris, Hutchins would make her first of many alliances with members of this burgeoning international intermedia avant-garde.
Allan Kaprow, who is credited with having coined the term "Happening," has acknowledged that his initial encounter with Rosenberg's Art News essay was a pivotal turning point in his own career and that it was the inherent radicalism of "The American Action Painters" that propelled him away from painting and toward assemblage, environments and happenings. Although Hutchins has cited both Kaprow and Jim Dine's Happenings as being influential models for her own development as an artist, at the point in time when Kaprow first began moving away from painting and toward intermedia events, Hutchins was embarking on her entry into the Paris art scene through far more conventional channels. Unaware of then circulating critical and theoretical artworld concerns, she was busy executing figurative pictures. In 1956-57 Hutchins worked under the tutelage of the Paris-based painter and filmmaker Robert Lapoujade who convinced her to reject representation in favor of spontaneous color field abstraction. Although she remembers approaching the act of painting her subsequent linear geometric abstractions as a performer interpreting a score, it was not until she decided to expand her two dimensional pictorial language into the third dimension that the artist embarked on her still active career as a fluent initiator of collaborative art events.
In 1966 Hutchins was introduced to the boxed event scores of George Brecht. The following year, during a general strike in Paris, she found herself in a local hardware store where she had a "chance encounter" with displays of small colored magnets and stacks of miniature plastic storage boxes. Realizing that these mass produced "ready-made" materials would allow her to translate her experiments with line and color into three dimensional space, she started constructing what she called "instant assemblages." Hutchins then began positioning spectators directly within the artistic arena by inviting them to finish her magnetic constructions or "playthings," thus not only breaking down the line of demarcation between art and life, but also dispensing with representation in favor of (inter)action. Perhaps most significantly, the artist initiated her ongoing campaign to level the playing field by eradicating all hierarchical distinctions among sender/receiver; artmaker/audience. In 1967, Hutchins made her first contact with the New York-based Fluxus collective and, soon thereafter, began her lifelong experiments with "hardware store culture," interactivity, electromagnetic fields, movement, vibration, energy and space. By 1968 she had discontinued painting entirely in favor of her magnetic objects. Designed to be finished by the "player" through hands-on collaboration, Hutchins' magnetic constructions have been described as "arenas for happenings."

Alice Hutchins, Circus, 1975
Alice Hutchins: One-Person Exhibitions, Paris Salons and Selected Group Shows
Individual Exhibitions
1968, Alice Hutchins, Something Else Gallery, New York City
1968, Play Things, Galerie Riquelme, Paris
1969, Playthings for Adults, Esther-Robles, Los Angeles
1970, Attractions, Galerie Lacloche, Paris
1976, Small Sculpture and Jewelry, Elaine Benson Gallery, Bridgehampton, Long Island, New York
1979, Magnetic Assemblage/Reaction Sculpture, Le Lieu-Dit, Paris
1981, Painting '65-'67, Sculpture '78-'80, Elaine Benson Gallery, Bridgehampton, Long Island, New York
1982, Form in Flux: 1967-1982, University Art Gallery, California State University, Chico
1988, Improvisation, Redding Museum of Art and History, California
1990, Magnetic Works and Letraset Collages, Bound and Unbound, New York City
1991, Magnetic and Paper Works, Galerie Hundertmark, Köln
1994, Works on Hand/New Old Used, Delphine Gallery, Santa Barbara, California
Paris Salons
1969/71, Salon des Comparisons
1969/72, Salon de la Jeune Sculpture
1969/72/78, Salon des Realités Nouvelles
1975/80, L'Union des Femmes Peintres-Sculpteurs
1978, Salon de Mai
Selected Group Exhibitions
1969, Superlimited: Books, Boxes & Things, Jewish Museum, New York City
1969, Affect-Effect, La Jolla Museum of Contemporary Art, California
1969, Les Trois Dimensions dans la Création Plastique, American Center, Paris
1970, U.S.A. Group 1969, Chateau-Musée Dieppe, France
1972, Quatre Artistes et une Galerie en Qu te d'Editeur (Adzak, Hutchins, Levee, Rougemont), Galerie Germain, Paris
1972-73, Fluxshoe: British Tour, Falmouth, Exeter, Cardiff, Croydon, Nottingham, Oxford
1975, Color, Light and Image, Women's Interart Center, New York City
1975, L'Année de la Femme, Musée d'Art Moderne de la Ville de Paris
1977, Les Mains Regardent, Centre Georges Pompidou, Paris
1978, 90 by 30: A Festival of Small Sculpture, Martha Jackson Gallery, New York City
1981, Fluxus etc. The Gilbert and Lila Silverman Collection, Cranbrook Academy of Art Museum, Bloomfield Hills, Michigan
1988, Fluxus: Selections from the Gilbert and Lila Silverman Collection, Museum of Modern Art, New York City
1989, Happenings & Fluxus, Galerie 1900/2000, Paris
1990, Fluxus, Hovikodden Kunstsenter, Oslo
1990, Ubi Fluxus Ibi Motus, Venice Biennale
1991, After Duchamp, Galerie 1900/2000, Paris
1992, Fluxus Virus 1962-1992, Galerie Schüppenhauer, Köln
1992, Regard Multiple, Centre Georges Pompidou, Paris
1992, Jewelry & Other Metal Work from the Permanent Collection, American Craft Museum, New York City
1992, Fluxus, Museum of Modern Art, Bolzano, Italy
1992, Fluxus: A Conceptual Country, Franklin Furnace, New York City
1993, In the Spirit of Fluxus, The Walker Art Center, Minneapolis
1994, Fluxbritannica: Aspects of the Fluxus Movement, 1962-73, Tate Gallery, London
1995, Women Beyond Border, Contemporary Arts Forum, Santa Barbara, California
1997, Francesco Conz and That Intermedia Avant Garde, Queensland Art Gallery, Brisbane, Australia
-END-
To: Subjugated Knowledges cover page
To: Circles of Friends: A Conversation with Alice Hutchins
To: Exhibition Checklist