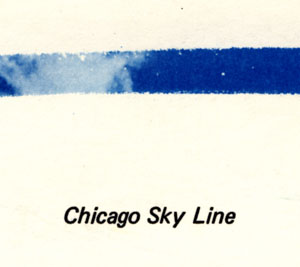 Above: Cover of Chicago Sky Line by Conrad Gleber, 1977.
Chicago Sky Line is composed of 25 slips of paper. Each slip is 10 1/2" long but range from 3" to 7 1/4" wide. The first is completely blank, but the next has a narrow margin of blue sky and white clouds on the top and a thin strip of a khaki-colored sky line on the bottom. The strips of color, both top and bottom, become progressively thicker until, on the last page (above, far right) the images are complete. The book is bound in the upper right hand corner with a metal brad and housed in a tri-fold folio.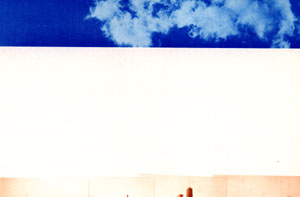 Above:
An example of one of the slips from the middle of the book, showing the clouds and the skyline developing.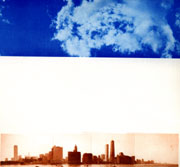 Above:
The last page of
Chicago Sky Line.