Ken Friedman: Art[net]worker Extra-Ordinaire
by Estera Milman
What about my symphony No. 3? I forgot to write...simple, like that--therefore recently, I commissioned Ken Friedman to write my Symphony No. 3., the third synfonie of nam june paik.
--- Nam June Paik, New York, February 1973 [1]
In his 1973 essay "Flowing in Omaha," reproduced in its entirety in this volume, Ken Friedman described his Omaha Flow Systems project as "a family picnic of good, hard-working folks, artists, bankers, politicians, plumbers, all having a go at the most complex of human activities --creative participation in the arts." He further insists that his primary intention was "to use this series of activities as methods for trying to involve all levels of the public in the life of the arts, to involve all segments of society from businesses and civic authorities to educational institutions and religious organizations." Similar intentions continue to serve as the basis of Friedman's multi-layered creative life.

Untitled (Meat Print), 1973
Legend has it that Friedman was kissed at sixteen by the Fluxus angel. Twenty-one years later, he was appointed artist-in-residence for the Arabia Finland design firm. The primary objective of his residency was the development and marketing of his Fluxus Mythologica project. In a March 25, 1987, hand-written manuscript/manifesto entitled "Design Principles of FLUXUS MYTHOLOGICA," authored in Helsinki, Friedman clearly defines his intentions at the same time that he, perhaps inadvertently, sketches out a set of "key Fluxus principles" that differ substantially from those normally cited in the literature.
1. Motif from text, from history, from recorded events.

2. Visual art is always a translation or repetition of meaning: culture in the anthropological and social sense.

3. An object that embodies useful meaning can be a work of art.

4. There is no boundary between art and life that needs to be erased.

5. The key principle of Fluxus announces that high art is dead if it excludes all human experience.

6. The second principle of Fluxus is that the avant-garde is dead for the same reason.

7. The third key principle of Fluxus is that ideas such as mass-manufactured art, thematic variation, the inclusion of life themes such as humor, myth, sex or religion in art are liable to develop the most interesting objects.

8. Single or unique objects, poetic objects, romantic objects, jewelry, clothing, flags, maps, intelligent objects and stupid objects have all been produced under the Fluxus label. The purpose of experimental art is neither to appear to be avant-garde nor to set art apart from other experience, but to grow and to learn. A bad experiment can be valuable as a learning tool. A good experiment can be repeated continually from the experimental stage into the useful daily experience.

9. My purpose at Arabia is to unite these principles. I am here to create works of art that have large scale. The earliest Fluxus works were designed for the international public market. The early and middle 1960's were the wrong era for a vast art market for manufactured objects, we lacked properly organized production facilities and had no access to capital.

Arabia has appointed me artist-in-residence to develop the Fluxus Mythologica project. Arabia is supporting the creation of a production workshop and an experimental studio facility in the context of a modern industrial facility. Now, 25 years after the founding of Fluxus, 21 years since I came to Fluxus with my own ideas about cultures, we have the opportunity here in Finland to test the theories of Fluxus in industrial design production. Fluxus Mythologica is an opportunity to examine Fluxus in the international forum of large-scale cultural engagement.
Alongside a broad cross section of Friedman's diverse artistic production--his correspondence works, relief sculpture, drawings, prints, book works and other publications, assemblages, collections of found objects, Fluxclothing and installations, the exhibition Ken Friedman: Art[net]worker Extra-Ordinaire includes selections from his Fluxus Mythologica designs, prototypes, and sketches. In addition, the exhibition is also composed of representative examples of his ongoing collaborations with his "inter" arts colleagues and co-conspirators, for example, Home Decorating (with Benjamin Patterson), I Love The Old Goat (with Alison Knowles), Friedman and George Maciunas' Visa TouRiste: Passport to the State of Flux, Buster Cleveland's paste up for an edition of the NYCS Weekly Breeder, and a set of Killed Books realized by Friedman and Milan Knizak. Some, like Nam June Paik's Young Penis Sinfonie have not resurfaced since September 1975, when Friedman arranged and directed the world premier of the composer's first symphony at La Mamelle, in San Francisco. Others, like the Joseph Beuys/Friedman collaborative postcard entitled Fluxus Zone West/Fluxus West are counted among the better known visual texts of the Eternal Network.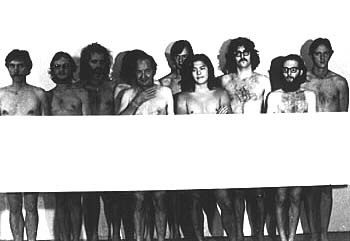 World permiere of Nam June Paik's "First Symphony (Young Penis Sinfonie),"
arranged and directed by Ken Friedman
In 1973 (and well over a decade after he had composed this piece) Paik had projected that the world premier of his yet to be performed Sinfonie No. 1 would not take place until 1984 A.D. [2] On his "mission to realize some of the supposedly unrealizable works in the Fluxus corpus," [3] and already wholeheartedly committed to what he would later identify in his 1987 Fluxus Mythologica manuscript as the third key principle of Fluxus, a young and aggressively iconoclastic Friedman proved him wrong. Perusal of the surviving anonymous photodocumention of the world premier of the Young Penis Sinfonie further confirms that in his organization and direction of this event, Friedman had again facilitated the "creative participation" of an admittedly adventurous grouping of hard-working folks, artists, and others in what he adamantly believed was "the most complex of human activities."
NOTES:
[1] Nam June Paik, in Source: Music of the Avant Garde, Issue Number 11, 1973/74, Ken Friedman, guest ed., p 75.
[2] Ibid.
[3] E-mail from Ken Friedman to Estera Milman, dated July 20, 1999. In this note, the artist requested that I remind readers that he was "young and foolish" when he premiered Nam June's piece. I, in turn, would prefer to believe that Alfred Jarry's ghost was in attendance during Friedman's premier of his fellow iconoclast's "sinfonie," and that the venerated Symbolist poet not only understood what really was at stake, but wholeheartedly approved.
To:
Friedman
introduction page
To:
Subjugated Knowledges
cover page.

-END-